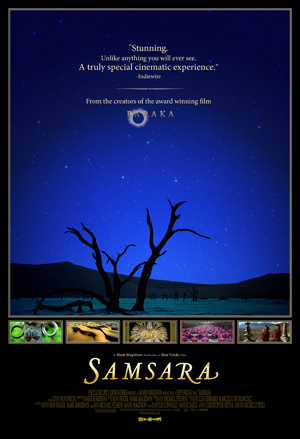 I won't begin to try and describe this film - an incredible documentary covering everything from Buddhist monasteries and the pilgrimage to Mecca to sex dolls to sand dunes to food factories to African tribes and lots of gorgeous cinematography with a haunting soundtrack. It made for an interesting afternoon viewing that's for sure and for cause to reflect on how privileged or over-privilieged we are in this part of the world. The Sanskrit word means "the ever changing wheel of life" and so it is...like the tarot card, the Wheel of Fortune can be at the top or bottom.
<iframe width="560" height="315" src="http://www.youtube.com/embed/qp967YAAdNk" frameborder="0" allowfullscreen></iframe>
In a weird way it had me check out "Samsara" perfume again at Shoppers Drug Mart..a weird non sequitur I know...I also have this strange dream or fantasy or walking through those beautiful windswept sand dunes - "Tea in the Sahara" anyone?
From the sublime to the very ridiculous as in ridiculously funny I went to the Second City Christmas show on Boxing Day - kudos to the cast for a fast paced and hilarious show. The sketch about the young Christmas tree being harvested - as a horror film reference while the clueless family sung "O Christmas Tree" was great. No worries - her "dad" got his revenge later in the show. Oops..did I spoil it? The battling snow shovellers a la Matrix was also great. I can't really separate out any cast member since it was a great ensemble effort as it should be - witness the numerous re-tellings of "Twas the Night Before Christmas" - or Hanukkah or Kwanzaa. Of course our secret fear is always being chosen from the audience as a "volunteer" ..whew, escaped that!
As New Year's Eve approaches we have plans to dine at Fressen. The venerable high end veg spot on Queen is closing for a few months for a drastic re-vamp - can't wait to see what Mr. Gardiner was in store for us.